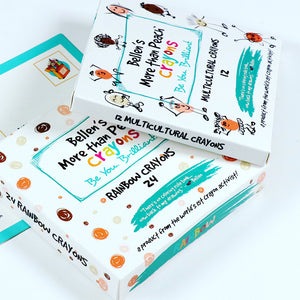 RESTOCK ALERT - New & Improved!
"...and Bellen and her crayons continue to make history changing the world…one crayon at time!"

Educators, Nonprofits, & those wishing to place bulk orders, please see the EDUCATORS Page to complete the request form and receive a quick quote.
                 Owning More than Peach® is owning a piece of history!

More Than Peach® 'SKIN-TONE'/MULTICULTURAL and RAINBOW Crayon-Combo-Pack/Supply List Bundle includes the following:
1 box More Than Peach 'Skin-tone'/Multicultural Crayons (12ct.)
1 box More Than Peach Rainbow Crayons (24 ct.)
1 Postcard Message from Bellen
Non-toxic, conforms to ASTM D 4236
Please note that items tend to sell quickly and quantities are limited.  More Than Peach is the mission and crayons imagined, pioneered, and created by then 8-year-old Bellen Woodard. (Though a big brand may have latched on to her mission, she is in no way affiliated with the "big brand".)  More Than Peach was created in direct response to correct the narrow narrative of  the single "flesh/skin-color" crayon and to grow inclusion and access. 
Due to limited quantities and the mission to grow each child's classroom experience, this bundle was previously available for bulk purchases and donations to schools only. We're delighted to now offer the Supply List Bundle to all!  If you are an educator seeking to purchase this bundle or adding to your school supply list, please send an email from your school/organization email address to ask@morethanpeach.com for specially-discounted bulk- pricing.

Bellen's More than Peach Project was created to grow empathy, youth leadership, and a genuine joy of learning in classrooms around the world.